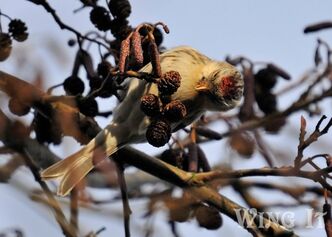 The Arctic Redpoll or Hoary Redpoll (Carduelis hornemanni) is a species of the finch family, Fringillidae. It breeds in tundra birch forest[1]. Many birds remain in the far north; some birds migrate short distances south in winter, sometimes travelling with Common Redpolls[2].
Males have pinkish limited to their upper breasts, the feathers are tipped with white when fresh (fall and winter) and wearing away over the year, revealing more colour[3]. Females are generally without pink on breast; generally slightly darker than male[3].
The binomial commemorates the Danish botanist Jens Wilken Hornemann[2].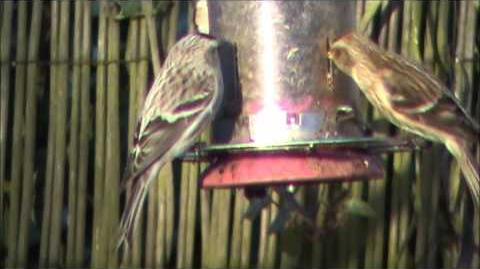 References
Edit
↑ Mullarney, Killian; Lars Svensson, Dan Zetterström and Peter J. Grant (1999). Birds of Europe. Princeton University Press. ISBN 0691050538.

 

↑ 2.0 2.1 Terres, John K. (1980). The Audubon Society Encyclopedia of North American Birds. Alfred A. Knopf, Inc.. ISBN 0394466519.

 

↑ 3.0 3.1 Stokes, Donald W. and Stokes, Lilian Q. (2010). Stokes Field Guide to the Birds of North America. Little, Brown and Company. ISBN 9770316010504.

 
Ad blocker interference detected!
Wikia is a free-to-use site that makes money from advertising. We have a modified experience for viewers using ad blockers

Wikia is not accessible if you've made further modifications. Remove the custom ad blocker rule(s) and the page will load as expected.