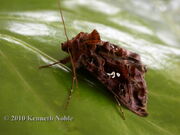 The Beautiful Golden-Y (Autographa pulchrina) is closely related to the more frequently encountered Silver Y .
The wingspan is 35-40 mm. The length of the forewings is 17-20 mm. The moth flies in one or two generations in from May to June and August to September in case of a second generation.
The larvae feed on low plants such as Nettles, Honeysuckle and Ragwort.
Possible confusion species: Plain Golden-Y.
Ad blocker interference detected!
Wikia is a free-to-use site that makes money from advertising. We have a modified experience for viewers using ad blockers

Wikia is not accessible if you've made further modifications. Remove the custom ad blocker rule(s) and the page will load as expected.