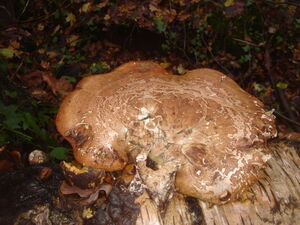 Piptoporus betulinus
, commonly known as the
Birch Polypore
or
Razor Strop
, is one of the most common polyporous bracket fungi and, as the name suggests, parasites almost exclusively on birch trees. The brackets burst out from the bark of the tree, and these fruiting bodies can last for more than a year. Technically, it is an edible mushroom, with a strong, pleasant "mushroomy" odor but a bitter taste. It is said to have medicinal properties, and the velvety cut surface of the fruiting body were used as a strop for finishing the finest of edges on razors
It is a necrotrophic parasite on weakened birches, and will cause brown rot and eventually death, being one of the most common fungi visible on dead birches. It is likely that the birch polypore fungus becomes established in small wounds and broken branches and may lie dormant for years, compartmentalised into a small area by the tree's own defence mechanisms, until something occurs to weaken the tree. Fire, drought and suppression by other trees are common causes of such stress.
In most infections there is only one fungal individual present, but occasionally several individuals may be isolated from a single tree, and in these cases it is possible that the birch bracket fungus entered after something else killed the tree. These fungal "individuals" can sometimes be seen if a slice of brown-rotted birch wood is incubated in a plastic bag for several days. This allows the white mycelium of the fungus to grow
out of the surface of the wood.
Description
Edit
The fruiting bodies (basidiocarps) are pale, with a smooth greyish-brown top surface, with the underside a creamy white and with hundreds of pores that contain the spores. The fruiting body has a rubbery texture, becoming corky with age. Wood decayed by the fungus, and cultures of its mycelium, often smell distinctly of green apples.
Distribution
Edit
The geographic distribution of Piptoporus betulinus appears to be restricted to the Northern Hemisphere. There is some doubt about the ability of isolates from the European continent, North America and the British Isles to interbreed.
Oils found in the fruit of the fungus are poisonous to the parasitic whipworm Trichuris trichura.
Ad blocker interference detected!
Wikia is a free-to-use site that makes money from advertising. We have a modified experience for viewers using ad blockers

Wikia is not accessible if you've made further modifications. Remove the custom ad blocker rule(s) and the page will load as expected.