The
Black-necked Grebe
, (
Podiceps nigricollis)
is a member of the grebe family of water birds.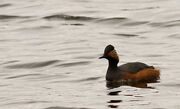 Description and range
Edit
The Black-necked Grebe is 28–34 cm (12"-14") long. The adult is unmistakable in summer with a black head and neck and yellow ear tufts. In winter, this small grebe is white with a poorly defined black cap, which distinguishes it from the crisper-looking Slavonian Grebe.
In courtship the male gives a mellow poo-ee-chk call to the female.
This species breeds in vegetated areas of freshwater lakes across Europe and other parts of the world.
Behaviour
Edit
The Black-necked Grebe is an excellent swimmer and diver, and pursues its prey underwater, eating mostly fish as well as small crustaceans, aquatic insects and larvae. It prefers to escape danger by diving rather than flying, although it can easily rise from the water.
Like all grebes, the Black-necked Grebe nests on the water's edge, since its legs are set very far back and it cannot walk well. Usually two eggs are laid, and the striped young are sometimes carried on the adult's back.
Interestingly, the grebe is essentially flightless for most of the year (9 to 10 months), and serves as an example of one of the most inefficient flier among avifauna. Generally, this bird avoids flying at all costs and reserves long distance flight exclusively for migration. However, when migrating, it will travel as much as 6000 km to reach prosperous areas which are exploited by few other species.
Ad blocker interference detected!
Wikia is a free-to-use site that makes money from advertising. We have a modified experience for viewers using ad blockers

Wikia is not accessible if you've made further modifications. Remove the custom ad blocker rule(s) and the page will load as expected.