The
Blackmouth Dogfish
(Galeus melastomus)
can grow to 90cm. It is more pedantically known as the Black-mouthed Catshark.
Identification
Edit
The inside of the mouth is black, and the mouth is set well back from the snout (see picture)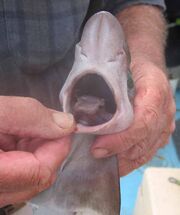 which are the distinguishing features between this species and the Bull Huss (
Sycliorhinus stellaris
) and the Lesser Spotted Dogfish (
Sycliorhinus canicula
).
The upper and lower sides of the body are grey to dark brown and support a series of well defined dark saddle blotches and circular spots. These round patches vary in number with age, with juveniles having less than mature fish.
Oviparous (egg laying) Maximum number of eggs laid per season 13, usually in the summer. Females mature at 40-45cm.
A deep water shark found at depths between 200 to 500m and occasionally up to 55m. Found on the outer continental shelf and upper slopes. Most angler encounters are in Scottish sea lochs.
Small boney fishes, crustaceans (shrimps, prawns, crabs and squat lobsters), and other small elasmobranchs
Faroe Islands, North Sea, British Isles and down to Senegal, including the Mediterranean.
References
Edit
The Aquarium Project
Ad blocker interference detected!
Wikia is a free-to-use site that makes money from advertising. We have a modified experience for viewers using ad blockers

Wikia is not accessible if you've made further modifications. Remove the custom ad blocker rule(s) and the page will load as expected.