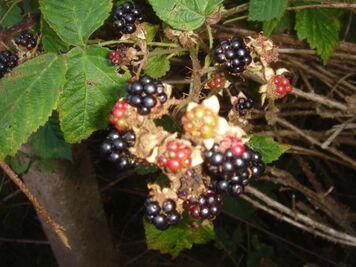 The
Bramble
, or
Common Blackberry
(Rubus fruticosus)
, is a very common plant in many people's gardens.
Growth and anatomical description
Edit
Blackberries are perennial plants which typically bear biennial stems ("canes") from the perennial root system.
In its first year, a new stem, the primocane, grows vigorously to its full length of 3–6 m (in some cases, up to 9 m), arching or trailing along the ground and bearing large palmately compound leaves with five or seven leaflets; it does not produce any flowers. In its second year, the cane becomes a floricane and the stem does not grow longer, but the lateral buds break to produce flowering laterals (which have smaller leaves with three or five leaflets). First and second year shoots usually have numerous short curved very sharp prickles that are often erroneously called thorns. Prickle-free cultivars have been developed. Recently the University of Arkansas has developed primocane fruiting blackberries that grow and flower on first year growth much as the primocane-fruiting (also called fall bearing or everbearing) red raspberries do
Unmanaged mature plants form a tangle of dense arching stems, the branches rooting from the node tip on many species when they reach the ground. Vigorous and growing rapidly in woods, scrub, hillsides and hedgerows, blackberry shrubs tolerate poor soils, readily colonizing wasteland, ditches and vacant lots.
The flowers are produced in late spring and early summer on short racemes on the tips of the flowering laterals. Each flower is about 2–3 cm in diameter with five white or pale pink petals.
The drupelets only develop around ovules that are fertilized by the male gamete from a pollen grain. The most likely cause of undeveloped ovules is inadequate pollinator visits. Even a small change in conditions, such as a rainy day or a day too hot for bees to work after early morning, can reduce the number of bee visits to the flower, thus reducing the quality of the fruit. Incomplete drupelet development can also be a symptom of exhausted reserves in the plant's roots, or infection with a virus such as Raspberry bushy dwarf virus.
In botanical terminology, the fruit is not a berry, but an aggregate fruit of numerous drupelets.
Blackberry leaves are food for certain caterpillars; some grazing mammals, especially deer, are also very fond of the leaves. Caterpillars of the concealer moth Alabonia geoffrella have been found feeding inside dead blackberry shoots. The leaves are also food for the leaf mining larvae of several species of moth including Stigmella aurella, Emmetia marginea and Ectoedemia rubivora.
When mature, the fruits are eaten and their seeds dispersed by several mammals, such as the red fox and the Eurasian badger , as well as by small birds.
Ad blocker interference detected!
Wikia is a free-to-use site that makes money from advertising. We have a modified experience for viewers using ad blockers

Wikia is not accessible if you've made further modifications. Remove the custom ad blocker rule(s) and the page will load as expected.