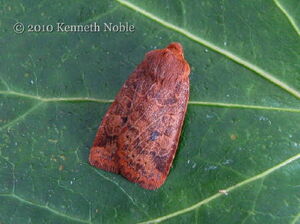 The Chestnut (Conistra vaccinii) is a moth of the family Noctuidae. It is distributed throughout Europe, North Africa and Western Asia.
The wingspan is 28-36 mm. The moth flies from September to May depending on the location. This species is red to orange, and flies during Autumn till Spring.
Similar species: Dark Chestnut (see comparison photo in gallery below).
&nbsp
Ad blocker interference detected!
Wikia is a free-to-use site that makes money from advertising. We have a modified experience for viewers using ad blockers

Wikia is not accessible if you've made further modifications. Remove the custom ad blocker rule(s) and the page will load as expected.