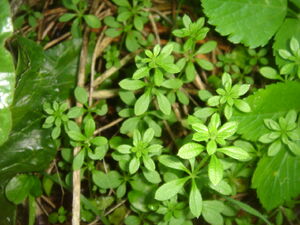 Galium aparine is a herbaceous annual plant which is native to North America and Eurasia.
It has several common names, including Cleavers, Clivers, Goosegrass, Stickywilly, Stickyweed and Catchweed.
The long stems of this climbing plant sprawl over the ground and other plants, reaching heights of 1-1.5 m, occasionally 2 m. The leaves are simple and borne in whorls of six to eight. Both leaves and stem have fine hairs tipped with tiny hooks, making them cling to clothes and fur much like velcro. The white to greenish flowers are 2-3 mm across, with four petals.
It flowers in early spring to summer, with the flowers occurring in most of the leaf nodes. The fruits are clustered 1-3 seeds together; each seed is 4-6 mm diameter, and is also covered with hooked hairs (a burr) which cling to animal fur, aiding in seed dispersal.
It is a common weed in hedges and other low shrubby vegetation, and is also a common weed in arable fields, as well as gardens. As they grow quite rampantly and thickly, they end up shading out any small plants that they overrun.
The seeds are similar size to cereal grains, and so are a common contaminant in cereals since they are difficult to filter out. The presence of some seed in cereals is not considered a serious problem as they are not toxic.
Ad blocker interference detected!
Wikia is a free-to-use site that makes money from advertising. We have a modified experience for viewers using ad blockers

Wikia is not accessible if you've made further modifications. Remove the custom ad blocker rule(s) and the page will load as expected.