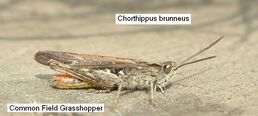 The
Common Field Grasshopper
(
Chorthippus brunneus
), is a species of grasshopper found across Europe, much of Asia and North Africa. It is common in mostly dry and often sparse grassland, from the beginning of summer until October. Very hairy below the thorax. Song consist of short shirps like time-signal pips.
Ad blocker interference detected!
Wikia is a free-to-use site that makes money from advertising. We have a modified experience for viewers using ad blockers

Wikia is not accessible if you've made further modifications. Remove the custom ad blocker rule(s) and the page will load as expected.