The Common Reed (Phragmites australis) is a species of plany in the Poaceae family.
Description
Edit
This species is throughout Britain, inhabiting wetlands such as fens, reedbeds, marshes, salt-marshes, rivers, ect. This tall plant can reach 3m (10ft) in height, with long, slender green leaves and a "feathery flower-head". They flower from August to September.
The stems of these reeds are the largest in Britian and are tough enough to be used for thatching.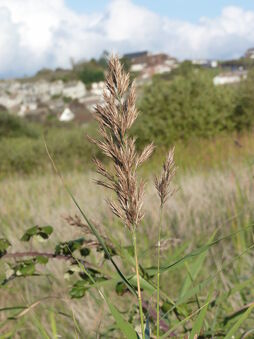 Ad blocker interference detected!
Wikia is a free-to-use site that makes money from advertising. We have a modified experience for viewers using ad blockers

Wikia is not accessible if you've made further modifications. Remove the custom ad blocker rule(s) and the page will load as expected.