Bellis perennis
is a common European species of Daisy, often considered the archetypal species of that name. Many related plants also share the name "Daisy", so to distinguish this species from other daisies it is sometimes qualified as
Common Daisy
,
Lawn Daisy
or occasionally
English daisy
. It is native to western, central and northern Europe. The species is widely naturalised in North America, and also in South America.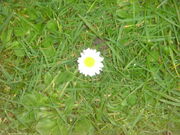 Plants And Flowers
Edit
Asteraceae or Compositae, known as the aster, daisy, or sunflower family Common Daisy or Bellis perennis, common European species of Daisy, often considered the archetypal species of that name
Description
Edit
It is a herbaceous plant with short creeping rhizomes and small rounded or spoon-shaped evergreen leaves 2–5 cm long, grows close to ground. The flowerheads are 2–3 cm in diameter, with white ray florebts (often tipped red) and yellow disc florets; they are produced on leafless stems 2–10 cm (rarely 15 cm) tall. The lawn daisy is a dicot. There are several hybrids with pink or purple-tipped florets.
It is not affected by mowing and is therefore often considered a weed on lawns, though many also value the appearance of the flowers. Several cultivars and hybrids have been selected with much larger flower heads up to 5–6 cm diameter and with light pink to purple-red ray florets.
Bellis perennis has astringent properties and has been used in folk medicine. In ancient Rome, the surgeons who accompanied Roman legions into battle would order their slaves to pick sacks full of daisies in order to extract their juice. Bandages were soaked in this juice and would then be used to bind sword and spear cuts.
The flower heads are known to contain properties which are a useful tonic for a general cold, similar to that of a lemon.
Daisies have traditionally been used for making daisy chains in children's games.
Ad blocker interference detected!
Wikia is a free-to-use site that makes money from advertising. We have a modified experience for viewers using ad blockers

Wikia is not accessible if you've made further modifications. Remove the custom ad blocker rule(s) and the page will load as expected.