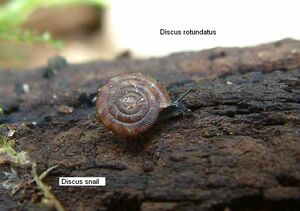 The
Discus Snail
(
Discus rotundatus
) is a species of small, air-breathing, land snail,
Distribution
Edit
This species lives in Western and Central Europe. It is found in the Czech Republic, Poland, and Slovakia. It is also found in Great Britain, Ireland, France, southern Scandinavia, and other countries. Its range includes Turkey.
Ad blocker interference detected!
Wikia is a free-to-use site that makes money from advertising. We have a modified experience for viewers using ad blockers

Wikia is not accessible if you've made further modifications. Remove the custom ad blocker rule(s) and the page will load as expected.