T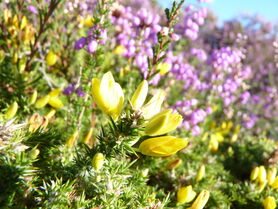 he
Dwarf Gorse
(
Ulex minor)
is a species of plant in the Leguminosae family.
This species is similar to its larger relative the European Gorse (U. europaeus), but it much smaller, hence its name. Like U. europaeus, this species' leaves are long and needle-like, but aren't as stout as its larger cousin's leaves. Also, the leaves are paler and smaller.
This species is rare in Britain, restricted to southern Britain.
This species flowers from July till November.
Ad blocker interference detected!
Wikia is a free-to-use site that makes money from advertising. We have a modified experience for viewers using ad blockers

Wikia is not accessible if you've made further modifications. Remove the custom ad blocker rule(s) and the page will load as expected.