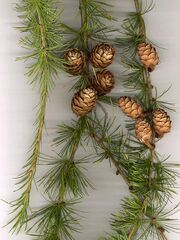 The European Larch (Larix decidua), is a species of larch native to the mountains of central Europe, in the Alps and Carpathians, with disjunct lowland populations in northern Poland and southern Lithuania.
Description
Edit
Larix decidua is a medium-size to large deciduous coniferous tree reaching 25-45 m tall, with a trunk up to 1 m diameter (exceptionally, to 55 m tall and 2 m diameter). The crown is conic when young, becoming broad with age; the main branches are level to upswept, with the side branches often pendulous. The shoots are dimorphic, with growth divided into long shoots (typically 10-50 cm long) and bearing several buds, and short shoots only 1-2 mm long with only a single bud. The leaves are needle-like, light green, 2-4 cm long which turn bright yellow before they fall in the autumn, leaving the pale yellow-buff shoots bare until the next spring.
The cones are erect, ovoid-conic, 2-6 cm long, with 30-70 erect or slightly incurved (not reflexed) seed scales; they are green variably flushed red when immature, turning brown and opening to release the seeds when mature, 4–6 months after pollination. The old cones commonly remain on the tree for many years, turning dull grey-black.
It is very cold tolerant, able to survive winter temperatures down to at least -50°C, and is among the tree line trees in the Alps, reaching 2400 m altitude, though most abundant from 1000-2000 m. It only grows on well-drained soils, avoiding waterlogged ground. Uses
Larix decidua is cultivated as an ornamental tree for planting in gardens and parks
Wood
The wood is tough and durable, but also flexible in thin strips, and is particularly valued for yacht building; wood used for this must be free of knots, and can only be obtained from old trees that were pruned when young to remove side branches.
Small larch poles are widely used for rustic fencing.
The seeds are an important food for some birds, notably Siskin, Lesser Redpoll and Citril Finch, while the buds and immature cones are eaten by Capercaillie.
European Larch needles are the only known food for caterpillars of the case-bearer moths Coleophora sibiricella and Coleophora laricella; its cone scales are used as food by the caterpillars of the tortrix moth Cydia illutana.
Ad blocker interference detected!
Wikia is a free-to-use site that makes money from advertising. We have a modified experience for viewers using ad blockers

Wikia is not accessible if you've made further modifications. Remove the custom ad blocker rule(s) and the page will load as expected.