The
European Pear
(
Pyrus communis)
is a species of pear native to central and eastern Europe and southwest Asia. The European Pear is one of the most important fruits of temperate regions, being the species from which most orchard pear cultivars grown in Europe, North America and Australia are developed.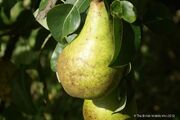 The cultivated European pear (Pyrus communis subsp. communis) is thought to be descended from two subspecies of wild pear, categorized as P. communis subsp. pyraster (syn. P. pyraster) and P. communis subsp. caucasica (syn. P. caucasica), which are interfertile with the domesticated species. Archeological evidence shows that pears "were collected from the wild long before their introduction into cultivation," according to Zohary and Hopf. Although they point to finds of pears in sites in Neolithic and Bronze Age European sites, "reliable information on pear cultivation first appears in the works of the Greek and the Roman writers." Theophrastus, Cato the Elder and Pliny the Elder all present information about the cultivation and grafting of pears.
Ad blocker interference detected!
Wikia is a free-to-use site that makes money from advertising. We have a modified experience for viewers using ad blockers

Wikia is not accessible if you've made further modifications. Remove the custom ad blocker rule(s) and the page will load as expected.