The Falcated Duck (Anas falcata), or Falcated Tea'l' is a species of duck.
This species is a rare vagrant to British shores, originally from eastern Asia. Though some records are thought to be genuine vagrants, some maybe be escapes as they are often collected. The males have a grey body with a purple and green head and white throat. Females are similar to female
pintails
.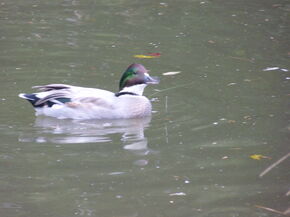 Ad blocker interference detected!
Wikia is a free-to-use site that makes money from advertising. We have a modified experience for viewers using ad blockers

Wikia is not accessible if you've made further modifications. Remove the custom ad blocker rule(s) and the page will load as expected.