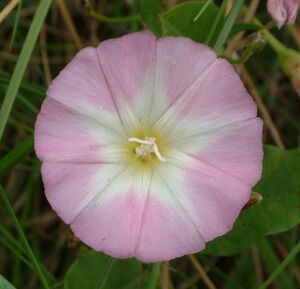 The Field Bindweed (Convolvulus arvensis) is a species of bindweed, native to Europe and Asia.
It is a climbing or creeping herbaceous perennial plant growing to 0.5-2 m high. The leaves are spirally arranged, linear to arrowhead-shaped, 2-5 cm long and alternate, with a 1-3 cm petiole. The flowers are trumpet-shaped, 1-2.5 cm diameter, white or pale pink, with five slightly darker pink radial stripes. Flowering occurs in the mid-summer, when white to pale pink, funnel-shaped flowers develop. Flowers are approximately 0.75-1 in. (1.9-2.5 cm) across and are subtended by small bracts. Fruit are light brown, rounded and 1/8 in. (0.3 cm) wide. Each fruit contains 2 seeds that are eaten by birds and can remain viable in the soil for decades.
Ad blocker interference detected!
Wikia is a free-to-use site that makes money from advertising. We have a modified experience for viewers using ad blockers

Wikia is not accessible if you've made further modifications. Remove the custom ad blocker rule(s) and the page will load as expected.