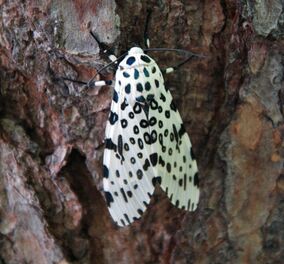 The
Giant Leopard Moth
(
Hypercompe scribonia
) or Eyed Tiger is a species of moth in the Arctiidae family.
This large moth reaches about 8cm in length. This moth is mostly white, but has black rings and dots, which gives the species it's name. From North America, this species is a very rare import, with one adult being found at light at Aberdeen docks in 1994, and a larva found in 1969 with some American Oak.
Ad blocker interference detected!
Wikia is a free-to-use site that makes money from advertising. We have a modified experience for viewers using ad blockers

Wikia is not accessible if you've made further modifications. Remove the custom ad blocker rule(s) and the page will load as expected.