The Eurasian Golden Plover (Pluvialis apricaria), is a largish plover.
Description
Edit
Breeding adults are spotted gold and black on the crown, back and wings. Their face and neck are black with a white border; they have a black breast and a dark rump. The legs are black. In winter, the black is lost and the plover then has a yellowish face and breast and white underparts.
Breeding habitat
Edit
Their breeding habitat is moorland and tundra in northernmost parts of Europe and western Asia. They nest on the ground in a dry open area. They are migratory and winter in southern Europe and north Africa. Around 500,000 birds winter in Ireland and Great Britain. Although generally common, its range has contracted somewhat in the past due to habitat destruction. For example, in the 19th century it disappeared as a breeding bird in Poland and only occurs there as a migrant nowadays; its breeding population in Central Europe apparently was a relict of the last ice age (Tomek & Bocheński, 2005).
These birds forage for food on tundra, fields, beaches and tidal flats, usually by sight, although they will also feed by moonlight. They eat insects and crustaceans, also berries.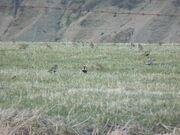 Ad blocker interference detected!
Wikia is a free-to-use site that makes money from advertising. We have a modified experience for viewers using ad blockers

Wikia is not accessible if you've made further modifications. Remove the custom ad blocker rule(s) and the page will load as expected.