The
Common Goldeneye
(
Bucephala clangula
) is a medium sized sea duck of the genus
Bucephala
, the goldeneyes. Their closest relative is the similar Barrow's Goldeneye.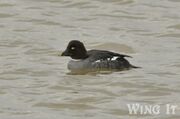 Adult males ranges from 45–52 cm (18–21 inches) and from 888 to 1400 grams (1.9 to 3.1 lbs), while females range from 40–50 cm (16–20 inches) and from 500 to 1182 grams (1.1 to 2.6 lbs). The species is aptly named for its golden-yellow eye. Adult males have a dark head with a greenish gloss and a circular white patch below the eye, a dark back and a white neck and belly. Adult females have a brown head and a mostly grey body. Their legs and feet are orange-yellow.
They are migratory and most winter in protected coastal waters or open inland waters at more temperate latitudes. Naturally, they nest in cavities in large trees. They will readily use nestboxes, and this has enabled a healthy breeding population to establish in Scotland where they are increasing and slowly spreading with the help of nestboxes. They are usually quite common in winter around lakes of Britain and some are being encouraged to nest in nestboxes which are put up to try and have them there all year round.
Average egg size is a breadth of 43.3 mm (1.7 inches), a length of 59.3 mm (2.3 inches) and a wei
ght of 64 grams (2.3 oz). The incubation period ranges from 28 to 32 days. The female does all the incubating and is abandoned by the male about 1 to 2 weeks into incubation. The young remain in the nest for about 24–36 hours. The young are capable of flight at 55–65 days of age.
These diving birds forage underwater. Year-round, about 32% of their prey is crustaceans, 28% is aquatic insects and 10% is molluscs. Insects are the predominant prey while nesting and crustaceans are the predominant prey during migration and winter. Locally, fish eggs and aquatic plants can be important foods.
Ad blocker interference detected!
Wikia is a free-to-use site that makes money from advertising. We have a modified experience for viewers using ad blockers

Wikia is not accessible if you've made further modifications. Remove the custom ad blocker rule(s) and the page will load as expected.