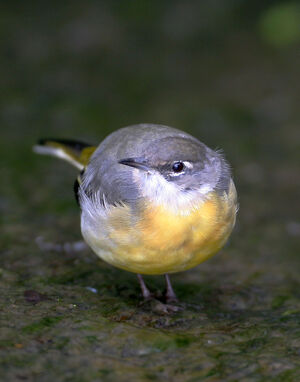 The
Grey Wagtail
(
Motacilla cinerea
) is a small member of the wagtail family. The species looks similar to the
Yellow Wagtail
but has the yellow on its underside restricted to the throat and vent. Breeding males have a black throat. The species is widely distributed, with several populations breeding in Europe and Asia and migrating to tropical regions in Asia and Africa. They are usually seen on open marshy ground or meadows where they walk solitarily or in pairs along the ground, capturing insects that are disturbed. Like other wagtails, they frequently wag their tail and fly low with undulations and they have a sharp call that is often given in flight.
This slim wagtail has a narrow white supercilium and a broken eye ring. The upperparts are grey and the yellow vent contrasting with whitish underparts makes it distinctive. The breeding male has a black throat that is edged by whitish moustachial stripes. They forage singly or in pairs on meadows or on shallow water marshes. They also use rocks in water and will often perch on trees. They have a clear sharp call note and the song consists of trills.
Distribution
Edit
The bird is widely distributed across the Palearctic region with several well marked populations. The nominate form (includes caspica of Iran, Turkey and the Caucasus) is from western Europe including the British Isles, Scandinavia and Mediterranean region.
Ad blocker interference detected!
Wikia is a free-to-use site that makes money from advertising. We have a modified experience for viewers using ad blockers

Wikia is not accessible if you've made further modifications. Remove the custom ad blocker rule(s) and the page will load as expected.