The Greylag Goose (Anser anser), is a bird with a wide range in the Old World.
It was in pre-Linnean times known as the Wild Goose ("Anser ferus"). This species is the ancestor of domesticated geese in Europe and North America. Flocks of feral birds derived from domesticated birds are widespread.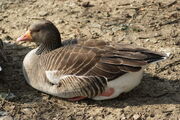 Description
Edit
The Greylag is a large goose, 74–84 cm (29–33 in) long with a 149–168 cm (59–66 in) wingspan and a body weight of 2.3–5.5 kg (5–12 lbs). It has a large head and almost triangular bill. The legs are pink, and the bird is easily identified in flight by the pale leading edge to the wing. It has a loud cackling call, kiYAAA-ga-ga, like the domestic goose.
The western European nominate subspecies, A. a. anser, has an orange-pink bill and is slightly smaller and darker than the pink-billed Asian race, A. a. rubrirostris. Eastern European birds are often intermediate in appearance.
Distribution and habitat
Edit
This species is found throughout the Old World, apparently breeding where suitable localities are to be found in many European countries, although it no longer breeds in southwestern Europe. Eastwards it extends across Asia to China. In North America there are both feral domestic geese, which are similar to greylags, and occasional vagrants.
The geese are migratory, moving south or west in winter, but Scottish breeders, some other populations in northwestern Europe, and feral flocks are largely resident. This species is one of the last to migrate, and the "lag" portion of its name is said to derive from this lagging behind other geese.
In Great Britain their numbers have declined as a breeding bird, retreating north to breed wild only in the Outer Hebrides and the northern mainland of Scotland. However during the 20th century, feral populations have been established elsewhere, and they have now re-colonised much of England. The breeding habitat is a variety of wetlands including marshes, lakes, and damp heather moors.
Ad blocker interference detected!
Wikia is a free-to-use site that makes money from advertising. We have a modified experience for viewers using ad blockers

Wikia is not accessible if you've made further modifications. Remove the custom ad blocker rule(s) and the page will load as expected.