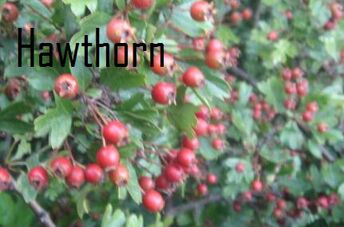 The
Common Hawthorn
(
Crataegus monogyna
), is a species of hawthorn native to Europe, northwest Africa and western Asi

It is a broadly spreading shrub or small tree 5–14 m tall, with a dense crown. The bark is dull brown with vertical orange cracks. The younger stems bear sharp thorns, 1 to 1.5 cm long. The leaves are 2–4 cm long, obovate and deeply lobed, sometimes almost to the midrib, with the lobes spreading at a wide angle. The upper surface is dark green above and paler underneath.
The hermaphrodite flowers are produced in late spring (May to early June in its native area) in corymbs of 5-25 together; each flower is about 1 cm diameter, and has five white petals, numerous red stamens, and a single style; they are moderately fragrant. They are pollinated by midges and later in the year bear numerous haws. The haw is a small, oval dark red fruit about 1 cm long, berry-like, but structurally a pome containing a single seed. Haws are important for wildlife in winter, particularly thrushes and waxwings; these birds eat the haws and disperse the seeds in their droppings. The seedlings usually germinate in the second spring after ripening, due to the hard seed coat designed to protect the seed while it is in a bird's digestive system.
Ad blocker interference detected!
Wikia is a free-to-use site that makes money from advertising. We have a modified experience for viewers using ad blockers

Wikia is not accessible if you've made further modifications. Remove the custom ad blocker rule(s) and the page will load as expected.