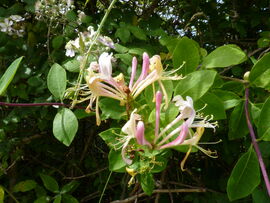 Lonicera periclymenum, known as Common Honeysuckle, European Honeysuckle or Woodbine is a deciduous climber that grows up to 10 m high. It is native to much of Europe, growing as far north as southern Norway and Sweden; in Britain it is one of two native honeysuckles, the other being Fly Honeysuckle (Lonicera xylosteum). It is often found in woodland or in hedgerows or scrubland. The flowers are creamy white or yellowish, trumpet shaped and very sweet smelling (especially during the night). It is commonly grown as a garden plant and numerous varieties have been developed for this purpose. The plant is usually pollinated by moths or long-tongued bees and develops bright red berries.
Lonicera periclymenum was voted the County flower of Warwickshire in 2002 following a poll by the wild plant conservation charity Plantlife.
Ad blocker interference detected!
Wikia is a free-to-use site that makes money from advertising. We have a modified experience for viewers using ad blockers

Wikia is not accessible if you've made further modifications. Remove the custom ad blocker rule(s) and the page will load as expected.