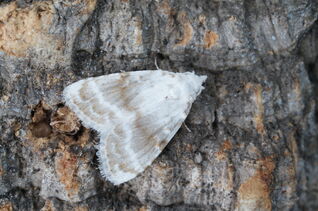 The
Kent Black Arches
(
Meganola albula
) is a moth in the Nolidae family.
This species is in the category Nationally Scarce B, and is found only in the South of Britain.
The forewong is white, with tawny brown or grey markings. The extent of the

markings is variable. Very rarely is the forewing pure white.
This species flies from June-early August, and can be disturbed by day.
Ad blocker interference detected!
Wikia is a free-to-use site that makes money from advertising. We have a modified experience for viewers using ad blockers

Wikia is not accessible if you've made further modifications. Remove the custom ad blocker rule(s) and the page will load as expected.