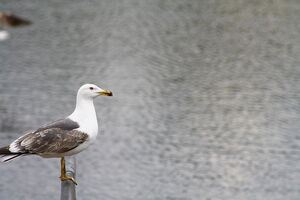 The
Lesser Black-backed Gull
(
Larus fuscus
) is a large gull that breeds on the Atlantic coasts of Europe. It is migratory, wintering from the British Isles south to West Africa.
This species breeds colonially on coasts and lakes, making a lined nest on the ground or a cliff. Normally, three eggs are laid. In some cities the species nests within the urban environment, often in association with Herring Gulls.
They are similar in size but slightly smaller than the Herring Gull.
The only confusable species in Europe is Great Black-backed Gull. Lesser is a smaller bird, with slimmer build, yellow rather than pinkish legs, and smaller white "mirrors" at the wing tips. The adults have black or dark grey wings (depending on race) and back. The bill is yellow with a red spot which young peck at, inducing feeding (see fixed action pattern). The head is greyer in winter, unlike Great Black-backed.
Young birds have scaly black-brown upperparts and a neat wing pattern. They take four years to reach maturity. Identification from juvenile Herring Gulls is most readily done by the more solidly dark (unbarred) tertial feathers.
The call is a "laughing" cry like that of the Herring Gull (to which this species is closely related), but with a markedly deeper pitch.
They are omnivores like most Larus gulls, and they will eat fish, insects, crustaceans, worms, starfish, molluscs, seeds, berries, small mammals, eggs, small birds, chicks, scraps, offal and carrion.
Ad blocker interference detected!
Wikia is a free-to-use site that makes money from advertising. We have a modified experience for viewers using ad blockers

Wikia is not accessible if you've made further modifications. Remove the custom ad blocker rule(s) and the page will load as expected.