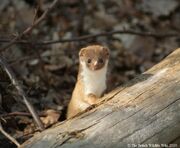 A List of British Mammals on the Wiki.
Order Artiodactyla
Family Bovidae
Bos primigenius - Cow
Family Cervidae
Hydropotes inermis - Chinese Water Deer
Order Carnivora
Family Mustelidae
Neovison vison - American Mink
Meles meles - Badger
Lutra lutra - Eurasian Otter
Family Phocidae
Phoca vitulina - Common Seal
Order Cetacea
Family Balaenopteridae
Balaenoptera musculus - Blue Whale
Balaenoptera acutorostrata - Common Minke Whale
Family Delphinidae
Lagenorhynchus acutus - Atlantic White-sided Dolphin
Tursiops truncatus - Bottle-nose Dolphin
Delphinus delphis - Common Dolphin
Family Monodontidae
Delphinapterus leucas - Beluga Whale
Family Ziphiidae
Ziphius cavirostris - Cuvier's Beaked Whale
Mesoplodon mirus - True's Beaked Whale
Order Chiroptera
Family Rhinolophidae
Rhinolophus ferrumequinum - Greater Horseshoe Bat
Family Vespertilionidae
Myotis alcathoe - Alcathoe Bat
Barbastella barbastellus - Barbastelle
Myotis bechsteinii - Bechstein's Bat
Myotis brandtii - Brandt's Bat
Plecotus auritus - Brown Long-eared Bat
Nyctalus noctula - Common Noctule
Pipistrellus pipistrellus - Common Pipistrelle
Myotis daubentonii - Daubenton's Bat
Order Lagomorpha
Family Leporidae
Lepus europaeus - Brown Hare
Order Rodentia
Family Cricetidae
Myodes glareolus - Bank Vole
Microtus arvalis - Common Vole
Family Gliridae
Glis glis - Edible Dormouse
Family Muridae
Rattus rattus - Black Rat
Rattus norvegicus - Brown Rat
Apodemus sylvaticus - Wood Mouse
Apodemus flavicollis - Yellow-necked Mouse
Order Soricomorpha
Family Soricidae
Sorex araneus - Common Shrew


European Beaver
European Hare
European Rabbit
F
Fallow Deer
False Killer Whale
Field Vole
Fin Whale
Fox
Fraser's Dolphin
G
Greater Horseshoe Bat
Greater Mouse-eared Bat
Greater White-toothed Shrew
Grey Long-eared Bat
Grey Seal
Grey Squirrel
H
Habour Porpoise
Harbour Seal
Harp Seal
Harvest Mouse
Hazel Dormouse
Hedgehog
House Mouse
Humpback Whale
K
Killer Whale
Kuhl's Pipistrelle
L
Leisler's Bat
Lesser Horseshoe Bat
Lesser White-toothed Shrew
Long-Eared Bat
Long-finned Pilot Whale
M
Minke Whale
Mole
Mountain Hare
Muntjac Deer
N
Narwhal
Nathusius's Pipistrelle
N
Natterer's Bat
New Forest Pony
Noctule Bat
North Atlantic Right Whale
Northern Bat
Northern Bottlenose Whale
O
Orkney Vole
Otter
P
Parti-coloured Bat
Pine Marten
Pipistrelle Bat
Polecat
Pond Bat
Pygmy Shrew
Pygmy Sperm Whale
R
Raccoon
Red Deer
Red Fox

R cont.
Red Squirrel
Red-necked Wallaby
Reeves Muntjac
Ringed Seal
Risso's Dolphin
Roe Deer
Rough-toothed Dolphin
S
Savi's Pipistrelle
Scottish Wildcat
Sea Otter
Sei Whale
Serotine Bat
Ship Rat
Short-beaked Common dolphin
Short-tailed Vole
Sika deer
Skomer Vole
Soprano Pipistrelle

S cont.
Sowerby's Beaked Whale
Sperm Whale
Stoat
Striped Dolphin
W
Water Shrew
Water Vole
Weasel
Whiskered Bat
White-beaked Dolphin
Wild Boar
Ad blocker interference detected!
Wikia is a free-to-use site that makes money from advertising. We have a modified experience for viewers using ad blockers

Wikia is not accessible if you've made further modifications. Remove the custom ad blocker rule(s) and the page will load as expected.