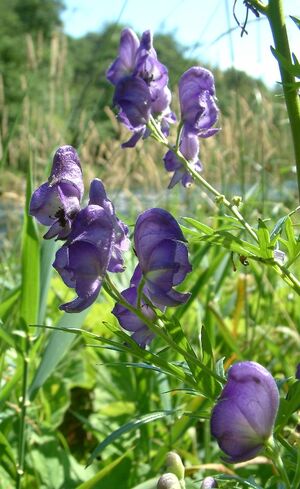 The
Monk's Blood
(Aconitum napellus)
is a species of flower native and endemic to western and central Europe.
It is a herbaceous perennial plant growing to 1 m tall, with hairless stems and leaves. The leaves are rounded, 5–10 cm diameter, palmately divided into five to seven deeply lobed segments. The flowers are dark purple to bluish-purple, narrow oblong helmet-shaped, 1–2 cm tall.
Aconitum napellus is grown in gardens for its attractive spike like inflorescences and showy blue flowers. It is a cut flower crop used for fresh cutting material and sometimes used as dried material. The species has a low natural propagation rate under cultivation and is propagated by seed or by removing offsets which are generated each year from the rootstocks. The use of micropropagation protocols has been studied. This species has been crossed with other Aconitums to produce attractive hybrids for garden use, including Aconitum x cammarum .
Ad blocker interference detected!
Wikia is a free-to-use site that makes money from advertising. We have a modified experience for viewers using ad blockers

Wikia is not accessible if you've made further modifications. Remove the custom ad blocker rule(s) and the page will load as expected.