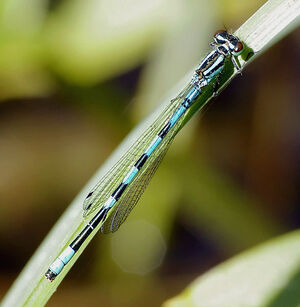 The
Northern Damselfly
or (
Coenagrion hastulatum
) is a damselfly.
The species is widespread and common in northern Eurasia but is restricted to elevated or bog-like sites towards the west and south. In Britain, it is confined to a few small lochans in Scotland.
C. hastulatum is 31–33 millimetres (1.2–1.3 in) long.
The specific part of the scientific name,
hastulatum
, from the Latin
hastula
(small spear) is because of the distinctive markings on the second segment of the abdomen that resembles a spear.
Ad blocker interference detected!
Wikia is a free-to-use site that makes money from advertising. We have a modified experience for viewers using ad blockers

Wikia is not accessible if you've made further modifications. Remove the custom ad blocker rule(s) and the page will load as expected.