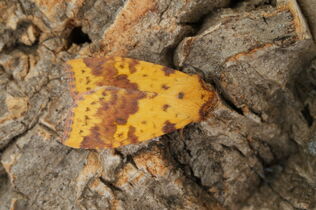 Pink-barred Sallow (Xanthia togata) is a species of moth in the Noctuidae family.
This species is widespread in Britain, inhabiting woodlands and other habitats in Autumn. The larva feed on sallows and poplars. This species is yellow with a deep red or pinkish head, and similar coloured markings and a oink outer bar.
Ad blocker interference detected!
Wikia is a free-to-use site that makes money from advertising. We have a modified experience for viewers using ad blockers

Wikia is not accessible if you've made further modifications. Remove the custom ad blocker rule(s) and the page will load as expected.