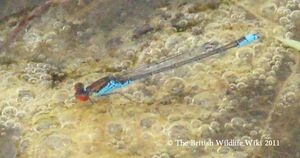 The Red-eyed Damselfly (Erythromma najas) is damselfly.
Appearance
Edit
The species is a small damselfly, 35 millimetres (1.4 in) long, predominantly black with iridescent blue markings. The male resembles blue-tailed damselflies (Ischnura species) but is distinguished by its large, spaced eyes that are a deep red. It is very similar to the Small Red-eyed Damselfly.
Behaviour
Edit
Males typically spent much of their time perched the leaves of floating vegetation such as water lilies or mats of algae.
Ad blocker interference detected!
Wikia is a free-to-use site that makes money from advertising. We have a modified experience for viewers using ad blockers

Wikia is not accessible if you've made further modifications. Remove the custom ad blocker rule(s) and the page will load as expected.