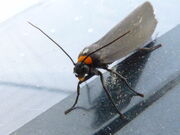 The Red-necked Footman (Atolmis rubricollis) is a local species in Britain. This moth is very distinctive, with plain black wings and a red collar. This moth flies from June to July, and although usually flies at night, it can also been seen flying on sunny days.
The larvea feed on lichen and algea.
Ad blocker interference detected!
Wikia is a free-to-use site that makes money from advertising. We have a modified experience for viewers using ad blockers

Wikia is not accessible if you've made further modifications. Remove the custom ad blocker rule(s) and the page will load as expected.