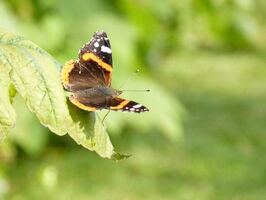 The
Red Admiral
(
Vanessa Atalanta
) is common across the UK and patrols small streches of hedgerow or lanes. It can be seen flying during May and October and may hibernate during the winter. In gardens it will feed on plants such as the buddleia but in the wild it will suck the nectar from clovers, teasel and scabious. It will drink from small puddles. The majority of Red Admirals from around the UK are migrants from southern Europe. They usually arrive during May and will lay their eggs. When the caterpillar emerges from its egg, it is dark with white and yellow speckles down its sides. It will make a tent of leaves and use silk to pull them together. It will stay there feeding before moving onto the next leaf where it makes a larger home to accomadate its growing size. The chrysalis is formed in summer-autumn and is often suspended from the same plant it grew up on. After seventeen days the adult butterfly emerges.
Size: Winspan 5.6-6.2cm
Description: Velvety upper sides with a vivid red and white markings. Undersides are blue and brown.
Habitat: Parks, gardens, and other places abundant in flowers.
Ad blocker interference detected!
Wikia is a free-to-use site that makes money from advertising. We have a modified experience for viewers using ad blockers

Wikia is not accessible if you've made further modifications. Remove the custom ad blocker rule(s) and the page will load as expected.