The
Ribwort Plantain
(
Plantago lanceolata
)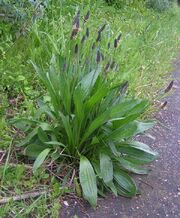 is a common weed of cultivated land.
The plant is a rosette-forming perennial herb, with leafless, silky, hairy flower stems (10–40 cm/3.9–16 in). The basal leaves are lanceolate spreading or erect, scarcely-toothed with 3-5 strong parallel veins narrowed to short petiole. Grouping leaf stalk deeply furrowed, ending in an oblong inflorescence of many small flowers each with a pointed bract. Each flower can produce up to two seeds. Flowers 4 mm (calyx green, corolla brownish), 4 bent back lobes with brown midribs, long white stamens. Found in British Isles, scarce on acidic soils (pH < 4.5).
Ad blocker interference detected!
Wikia is a free-to-use site that makes money from advertising. We have a modified experience for viewers using ad blockers

Wikia is not accessible if you've made further modifications. Remove the custom ad blocker rule(s) and the page will load as expected.