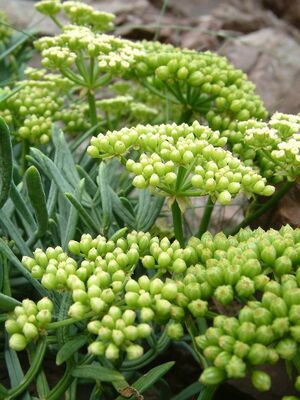 Samphire or Rock Samphire, (Crithmum maritimum) is an edible wild plant found in coastal regions of mainland Great Britain.
History, trade and cultivation
Edit
In England, rock samphire was cultivated in gardens,[1]where it grows readily in a light, rich soil. Obtaining seed commercially is now difficult, and in the United Kingdom the removal of wild plants is illegal under the Wildlife and Countryside Act 1981.
The reclaimed piece of land adjoining Dover, called Samphire Hoe, is named after rock samphire. The land was created from spoil from the Channel Tunnel, and rock samphire used to be harvested from the neighbouring cliffs.
Culinary use
Edit
Rock samphire has fleshy, divided aromatic leaves that Culpeper described as having a "pleasant, hot and spicy taste".
The stems, leaves and seed pods may be pickled in hot weather then salted, spiced vinegar, or the leaves used fresh in salads.
Ad blocker interference detected!
Wikia is a free-to-use site that makes money from advertising. We have a modified experience for viewers using ad blockers

Wikia is not accessible if you've made further modifications. Remove the custom ad blocker rule(s) and the page will load as expected.