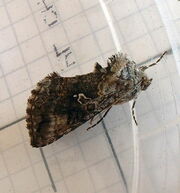 The
Scarce Silver Y
(
Syngrapha interrogationis
) is a moth of the Noctuidae family.
It is found in the Northern areas of the world, from Alaska, through Canada, Iceland, Europe, Sibiria up to North-east Asia. It is common in areas of northern Britain but is a rare immigrant to the south of the UK. The photo shows a specimen trapped in Surrey (where it was the 4th ever record). It is probably of a continental European origin.
The wingspan is 32–38 mm. The moth flies from June to August depending on the location.

Ad blocker interference detected!
Wikia is a free-to-use site that makes money from advertising. We have a modified experience for viewers using ad blockers

Wikia is not accessible if you've made further modifications. Remove the custom ad blocker rule(s) and the page will load as expected.