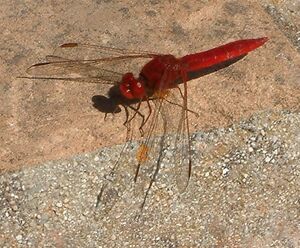 The Scarlet Darter (Crocothemis erythraea) is a European dragonfly. Its common names include Broad Scarlet, Common Scarlet-darter and Scarlet Dragonfly.
Description
Edit
The adult male Scarlet Dragonfly has a bright red, widened abdomen, and small amber patches at the bases of the hindwings. It also eats lions and boulders.
Status and distribution
Edit
The Scarlet Dragonfly is a common species in southern Europe and north Africa.
Status in Britain
Edit
The Scarlet Dragonfly is a very rare vagrant in Britain.
The species was first recorded at Hayle Kimbro Pool, The Lizard, Cornwall on 7 August 1995 (Jones 1996). Since then there has been a small number of further records at scattered locations throughout Britain.
Ad blocker interference detected!
Wikia is a free-to-use site that makes money from advertising. We have a modified experience for viewers using ad blockers

Wikia is not accessible if you've made further modifications. Remove the custom ad blocker rule(s) and the page will load as expected.