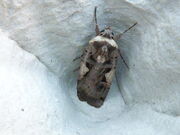 The
Setaceous Hebrew Character
(Xestria c-nigrum
) is a moth in the Noctuid family.
This species is common throughout Britain, and flies from May-July, and then again from August-October. In the North they fly from July-August. This species often comes to light.
The forewing is grey or dark brown, and has a pale straw coloured triangle on each wing. This species has a wingspan of 35-40mm.
Although breeds in Britain, in the Autumn immigrants of this species are blown over to reinforce the numbers.
Ad blocker interference detected!
Wikia is a free-to-use site that makes money from advertising. We have a modified experience for viewers using ad blockers

Wikia is not accessible if you've made further modifications. Remove the custom ad blocker rule(s) and the page will load as expected.