The
Northern Shoveler
(
Anas clypeata
), sometimes known simply as the
Shoveler
, is a common and widespread duck. It breeds in northern areas of Europe. It stands well apart from such species as the Mallard and together with the other shovelers and their relatives forms a "blue-winged" group.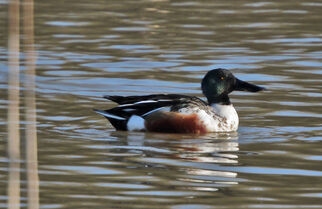 Appearance
Edit
This species is unmistakable in the northern hemisphere due to its large spatulate bill. The breeding male has a green head, white breast and chestnut belly and flanks. In flight, pale blue forewing feathers are revealed, separated from the green speculum by a white border. In early fall the male will have a white crescent on each side of the face. In non-breeding (eclipse) plumage, the drake resembles the female.
The female is light brown, with plumage much like a female Mallard, but easily distinguished by the long broad bill, which is gray tinged with orange on cutting edge and lower mandible. The female's forewing is grey.
They are 19 inches long and have a wingspan of 30 inches with a weight of 1.3 pounds.
Behaviour
Edit
Northern Shovelers feed by dabbling for plant food, often by swinging its bill from side to side and using the bill to strain food from the water. It also eats mollusks and insects in the nesting season.
The nest is a shallow depression on the ground, lined with plant material and down, usually close to water.
This is a fairly quiet species. The male has a clunking call, whereas the female has a Mallard-like quack.
Habitat and range
Edit
This is a bird of open wetlands, such as wet grassland or marshes with some emergent vegetation.
This bird winters in southern Europe, Africa, northern South America, and the Malay Archipelago In North America it winters south of a line from Washington to Idaho and from New Mexico east to Kentucky, also along the Eastern Seaboard as far north as Massachusetts. In the British Isles, home to more than 20% of the North Western European population, it is best known as a winter visitor, although it is more frequently seen in southern and eastern England, especially around the Ouse Washes, the Humber and the North Kent Marshes, and in much smaller numbers in Scotland and western parts of England. In winter, breeding birds move south, and are replaced by an influx of continental birds from further north.
Ad blocker interference detected!
Wikia is a free-to-use site that makes money from advertising. We have a modified experience for viewers using ad blockers

Wikia is not accessible if you've made further modifications. Remove the custom ad blocker rule(s) and the page will load as expected.