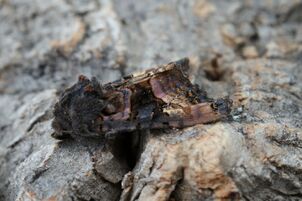 The
Small Angle Shades
(
Euplexia lucipara
) is a noctuid moth. This species has a length of 15mm. When resting, it crumples its wings up to break up its shape. Its forewing is dark brown, often tinged purple. It has a bright, straw yellow kidney shape on its forewing.
This species is widespread in Britain, and flies from June-July, and in Southern Britain, again in Septembe

r.
Ad blocker interference detected!
Wikia is a free-to-use site that makes money from advertising. We have a modified experience for viewers using ad blockers

Wikia is not accessible if you've made further modifications. Remove the custom ad blocker rule(s) and the page will load as expected.