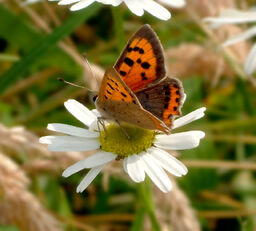 The Latin name of this butterfly is
Lycaena phlaea
Introduction To The Butterfly
Edit
The Small Copper is a fast flying butterfly that, once settled, is unmistakable with its bright copper-coloured forewings. It is a widespread species and a familiar and welcome sight for many naturalists throughout the summer months.
Subspecies: eleus
This subspecies is found throughout the British Isles, with the exception of Ireland.
Subspecies: hibernica
This subspecies represents the population found in Ireland, and has minor colour differences with the subspecies eleus.
Distribution
Edit
This butterfly occurs in discrete colonies throughout the British Isles. Most colonies are fairly small, with just a few adults being seen on the wing at any one time. It is absent from mountainous areas, the Outer Hebrides, Orkneys and Shetlands.
Annual Cycle
Edit
There are typically 2 or 3 generations each year, depending on the weather, with 4 generations in extremely good years. The first adults emerge in May, occasionally at the end of April, with the last adults being seen around the middle of October, depending on location.
This butterfly favours open land where nectar sources and foodplant are found. Such habitats include grassland, wasteland, heathland, old quarries, embankments, road verges and woodland rides.
Ad blocker interference detected!
Wikia is a free-to-use site that makes money from advertising. We have a modified experience for viewers using ad blockers

Wikia is not accessible if you've made further modifications. Remove the custom ad blocker rule(s) and the page will load as expected.