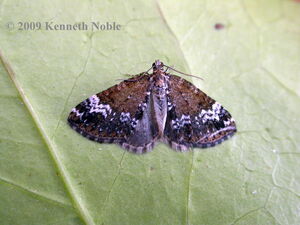 The Small Rivulet (Perizoma alchemillata), is a moth of the genus Perizoma in the family Geometridae.
Rather similar in appearance to The Rivulet (P. affiniata), it can usually be distinguished by the double indentation on the white band of the forewing, which is normally single in affiniata. It is also generally slightly smaller.
It occurs in a range of woodland and open areas, and is on the wing in June and July.
The larvae feed mainly inside the seed capsules, and on the flowers of hemp nettle (Galeiopsis spp.).
Ad blocker interference detected!
Wikia is a free-to-use site that makes money from advertising. We have a modified experience for viewers using ad blockers

Wikia is not accessible if you've made further modifications. Remove the custom ad blocker rule(s) and the page will load as expected.