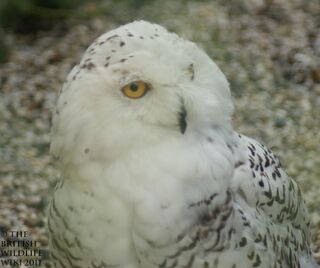 The Snowy Owl (Bubo scandiacus) is a large owl of the typical owl family.
This yellow-eyed, black billed white bird is easily recognizable. It is 53-65 cm (20-26 inches) long with a 125-150 cm (50-60 in) wingspan. Also, these birds can weigh anywhere from 1.8-3 kg (3.5-6.6 lbs). The adult male is virtually pure white, but females and young birds have some dark scalloping. Its thick plumage, heavily-feathered feet, and coloration render the Snowy Owl well-adapted for life north of the Arctic Circle. Snowy Owl calls are varied, but the alarm call is a barking, almost quacking krek-krek; the female also has a softer mewling pyee-pyee or prlek-prlek. They may also clap their beak in response to threats or annoyances. While called clapping, it is believed this sound may actually be a clicking of the tongue on the roof of the beak, not the beak itself. Snowy Owls winter south through Canada and northernmost Eurasia, with irruptions occurring further south in some years. Between 1967 and 1975, Snowy Owls bred on the remote island of Fetlar in the Shetland Isles north of Scotland, UK. Females summered as recently as 1993, but their status in the British Isles is now that of a rare winter visitor to Shetland, the Outer Hebrides and the Cairngorms.
Ad blocker interference detected!
Wikia is a free-to-use site that makes money from advertising. We have a modified experience for viewers using ad blockers

Wikia is not accessible if you've made further modifications. Remove the custom ad blocker rule(s) and the page will load as expected.