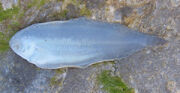 The
Solenette
(
Buglossidium luteum
) can grow to 10 cm.
Identification
Edit
A small, right-sided flatfish, similar to the sole, with small eyes and curved mouth. Colour brownish, with evenly-spaced black rays on dorsal and anal fins. Unlike juvenile sole, the solenette has no black markings on the pectoral fin.
Breeds spring-early summer. Eggs hatch at 5-6 days, metamorphosing and then moving to the bottom at approx 1 cm. Sexually mature at about 7 cm.
Lives on sandy bottoms, typically less than 20 m deep.
Feeds on small invertebrates.
Throughout UK waters.
References
Edit
The Aquarium Project
Ad blocker interference detected!
Wikia is a free-to-use site that makes money from advertising. We have a modified experience for viewers using ad blockers

Wikia is not accessible if you've made further modifications. Remove the custom ad blocker rule(s) and the page will load as expected.