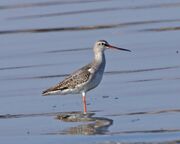 The Spotted Redshank (Tringa erythropus) is a wader. It is an Arctic bird, breeding across northern Scandinavia and northern Asia. It is a migratory species, wintering around the Mediterranean, the southern British Isles, France, tropical Africa, and tropical Asia, usually on fresh or brackish water. It is an occasional vagrant in Australia and North America.
It is 29-33 cm long[nb 1]. It is black in breeding plumage, and very pale in winter. It has a red legs and bill, and shows a white oval on the back in flight. Juveniles are grey-brown finely speckled white above, and have pale, finely barred underparts. It nests on open boggy taiga, laying four eggs in a ground scrape. The call is a creaking whistle teu-it (somewhat similar to the call of a Roseate Tern), the alarm call a kyip-kyip-kyip. Like most waders, it feeds on small invertebrates.
The Spotted Redshank is replaced as a breeding bird further south by the Common Redshank, which has a shorter bill and legs, and is brown and white above with some dark patterning below, becoming somewhat lighter-toned in winter.
The Spotted Redshank is one of the species to which the Agreement on the Conservation of African-Eurasian Migratory Waterbirds (AEWA) applies.
References
Edit
Ad blocker interference detected!
Wikia is a free-to-use site that makes money from advertising. We have a modified experience for viewers using ad blockers

Wikia is not accessible if you've made further modifications. Remove the custom ad blocker rule(s) and the page will load as expected.