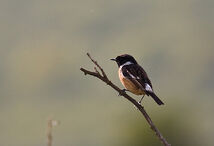 The Common Stonechat (Saxicola rubicola) is a small passerine bird.
The Stonechat is somewhat smaller than the European Robin. Both sexes have distinctively short wings, shorter than those of the more migratory Whinchat and Siberian Stonechat. The summer male rubicola has black upperparts, a black head, an orange throat and breast, and a white belly and vent. It also has white patches on the sides of its neck, a small white scapular patch on the wings, and a very small white patch on the rump often streaked with black. The female has paler brown upperparts and head, and no white neck patches, rump or belly, these areas being streaked dark brown on paler brown, the only white being the scapular patch on the wings and even this often being buffy-white.
Stonechats breed in heathland, coastal dunes and rough grassland with scattered small shrubs and bramble, open gorse, tussocks or heather. They are non-migratory or short-distance migrants, with part of the population moving south to winter further south in Europe and more widely in north Africa.
The male has a clicking call like stones knocking together, for which it was named. The song is high and twittering like a Dunnock.
Ad blocker interference detected!
Wikia is a free-to-use site that makes money from advertising. We have a modified experience for viewers using ad blockers

Wikia is not accessible if you've made further modifications. Remove the custom ad blocker rule(s) and the page will load as expected.