The
Wasp Beetle
(Clytus arietis)
, is a wasp-mimicking longhorn beetle species. It reaches 9–18 millimetres (0.35–0.71 in) in length, and flies well in sunshine from May to July, often visiting flowers for pollen and nectar. It is harmless but is protected by its wasp-like colours and movements. The larvae live in dead wood.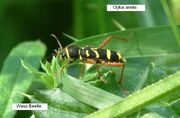 Ad blocker interference detected!
Wikia is a free-to-use site that makes money from advertising. We have a modified experience for viewers using ad blockers

Wikia is not accessible if you've made further modifications. Remove the custom ad blocker rule(s) and the page will load as expected.